Latest News
Summer 2016 update
Story added on 12th June 2016
Time for a summer update on our activities. Lots going on and not all will get in the update so apologies to those whose efforts have not been documented but being a museum volunteer is not about that. If you are reading this prior to visiting, locals will be all too aware of the road works taking place to the South of Coventry. Those further afield need not be put off by these problems but if you can try to plan your route to visit us to come in from Baginton Village, you shouldnt be too badly affected.
Lets start with our new building not quite a hanger in the true sense but large enough to help us store undercover some exhibits that need to be moved around to give access elsewhere. To this end it suits our requirements down to a tee, along with some extra concrete (still a bit dazzling in the bright sunlight) it will all enhance our efforts to provide a memorable visit. Plug here for the Model Show on the 26th of this month. Dont miss it if you are in anyway model orientated.
Undergoing a repaint is the Sea Gannet a fine historical aircraft which internally (you will have to take my word for it as access is not easy) is complete. the outside is now in white primer and when that is weathered hard it will recieve a new coat of silver paint.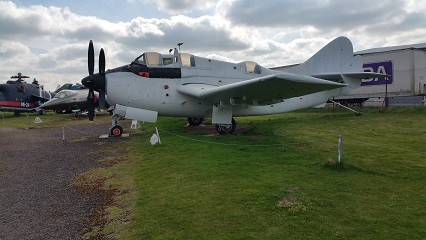 Also being painted is the T33, now in its final coat of silver paint it awaits its new livery (you will have to visit to find out). Anyone who has painted with metallic silver paint knows that unless you are patient and allow it to dry properly (and I am talking weeks) it marks very easily and cannot be just wiped clean. When you paint in silver, you paint and walk away or be prepared to paint again.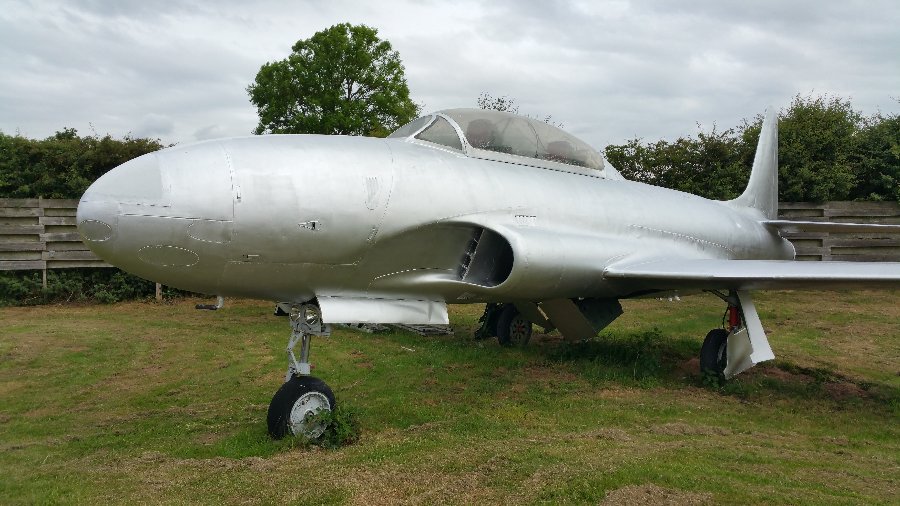 Our inert cast iron device with a parachute (you have to be careful what you put nowadays) has been repainted and remounted and is on display under the Vulcan, which carried 21 of them if you still didnt get the riddle at the beginning. Talking of inert devices included is a picture of our new sculpture strategectly photographed to include Canberra WF922 our restored PR3.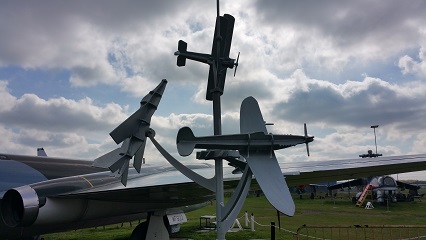 We are also beginning to see light at the end of the tunnel in the Tornado rebuild. A left hand rear lower engine bay door has been aquired and fitted and in the next week we should be in reciept of our last major piece of the jigsaw puzzle, the stbd intake (now confirmed as being held on site). This will complete the outside build and although we have the afterburner gear we do not have engines to hang them on to, so a feasabiity study is being planned to sort that one out. The cockpit equipment is all in store barring the two ejection seats and hopefully work can start on fitting that next year. Unless any ex Tornado experts (and you would need to be expert with a good CV) are reading this and want to help.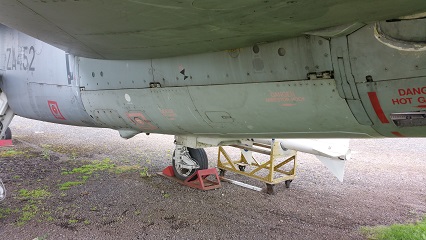 Finally an update on the readiness of the Victor nose XH592 to public access is coming closer. Access is the key word here because there is a problem in gaining safe access for all ages and fitness ranges. The aircraft is a lot lower to the ground than it was in service and makes banging your head on entry almost an inevitability unless the angle of the ladder is correct. After a great deal of searching for the correct answer we were left with no choice but to commision the build of a new access ladder to our team of welders and fabricators. This is ongoing and a target of the school summer holidays is being sought as a suitable opening time. Although as you will appreciate the task of restoring and adding bits as they become available will continue with the cockpit.
As to the inside, it is looking "purposeful" with all the panels populated, new desk covering fitted and an underfloor fan to help keep it cooler in the summer. Photos say a thousand words and those included in the update should whet your appetite to be one of the first to post photos of this addition to our collection. On open cockpit days and perhaps specialist group visits by arrangement with the manageress the aircraft nose can be powered up to give a really live feel. With working radio, cockpit/warning lighting, horns and bells the problem will be limiting or booking a time on those occasions as there is a lot to do and see. Anyone who has visited the museum and heard the engine sounds in our Electra cockpit will be pleased to know that a similar experience will be available in this cockpit to listen to the start and running of the four RR Saphires (ear defenders not required). Unlike the Vulcan cockpit which is powerfull in its own inert way because of the huge airframe its attached to. The Victor nose has to compensate for that by becoming a simulation experience, and its one we hope you will enjoy. The outside is being prepared for paint which was held up a bit because of the problem of keeping the water ingress under control but that, we hope, shouldnt affect our opening plans.