Latest News
Aug/Sept Update
Story added on 6th September 2015
The museum is still going strong despite several phone calls worried that we might be included in the sale of another aircraft organisation on the airfield. Just to re assure everyone we are going from strength to strength and are awaiting planning consent ( in its last stages) to enable the extension of some of our facilities.
Work wise we have made fairly steady progress on our scheduled summer projects. The T55 Saudi Lightning is complete, the Canberra has had a complete power wash and rub down ( sounds like a racehorse) and is looking shiny both inside and out. A lot of attention was made to re waterproof the navigators hatch windows which after a prolonged sit inside during the rain showed were the water drips noticed on the floor were coming from. Both ejection seats webbing and packs were serviced as best as possible, removing mould and accumalated dirt and dust. Its over 10 years since its major restoration and although the cockpit isnt opened on a regular basis it still gets used and sat in occasionally.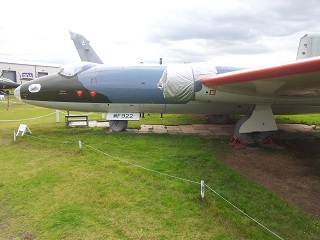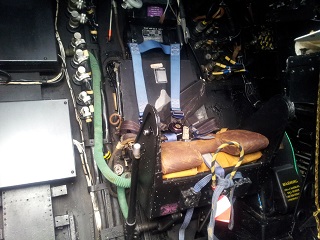 The next almost complete project is the Mystere. Fully repainted the scheme has been changed and as the picture shows it carries a lot more in the way of decals, although there are a few more to go on it certainly has lifted the look of this rather unspectacular airframe quite considerably.
The Whirlwind has had a lot of attention lavished on it and is about half way through its repaint. Not a straightforward rollering job due to its construction it just takes a lot longer to do than a normal repaint.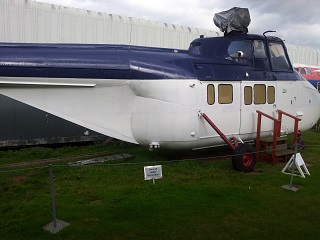 Whilst on the Helecopter subject the newly affixed tail on the historic Fletner is still ongoing not just a case of bolting on a structure there are control runs, rudder hinges to be fabricated from original drawings, it all takes time and perhaps its one of those cases where photographs do not do the work involved justice.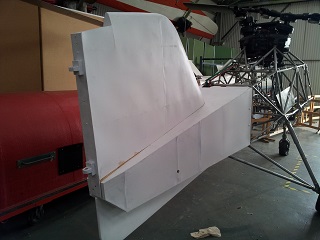 Not normally mentioned is the Lockheed Electra cockpit. When it first arrived it had no front windscreens fitted due to their scarcity as spares for the remaining flying examples they were robbed out. We fitted some locally made perspex windows but over the last few years the U/V has taken its toll on the front perspex(funnily enough the rear of the double glazed unit didnt discolour at all). We are now going to fit new laminated windscreen glass to the front and hope that this is now going to become a permanent answer. It does now play an active part of our guided tour so is well worth the effort to get it right. A roomy cockpit able to house a full family of visitors plus guide it does get used on a regular basis and is equipped with lighting to enhance the experience. This photo shows the cockpit with just the rear most glazing in place.
Finally although started late and will probably have to spend the winter in undercoat is the repaint of the Fairy Gannet trainer. An airframe which when you get up close is a great deal larger than it looks. Sanding down and painting will take some time and the weather may play a part in how long it takes to complete even to the undercoat stage. Please bare in mind this photo is a before image to give you an idea of how much work has to go constantly to keep the exhibits looking good. The completed image will eventually appear.