Latest News
March to May Update
Story added on 17th May 2015
Time is flying past this year and an update on museum activities is well overdue. On an aside after several comments about the very local major road improvements being made adjacent to the museum it is worthwhile checking if any road closures are in place that might coincide with a proposed visit. This will dictate which is the best direction to approach the museum from. It has to be said that it doesnt seem to have made great deal of difference to our visitor numbers at all in fact the reverse being true on current attendance figures.
The Tornado is now altogether and is safe to move from its assembly area. It is proposed to move it further up the site to give unrestricted access to improve the hardstanding area outside and adjacent to the Robin hanger. This move will mean far better photo opportunities for visitors. On the engineering side we are still awaiting a Port engine panel and the Starboard intake.
Other projects just starting are the interior restoration and repainting of the Dove. It is still to remain in Dunlop colours under present plans. The interior has never been fully exploited and the cockpit area will be very challenging for the team. An inert 1000 lb airbourne explosive (some words you just cant use) is now on display under the Vulcan we just need the other 20 to make a decent load.
The winter project of fabricating the Canberra 8 inch photo flashes on their carrier has come to fruition with the complete assembly now placed alongside the aircraft. The aircraft has had a nice new white cain link fence put around it since its repaint and everyone agrees it enhances the impression that greets you when you first step outside the hanger.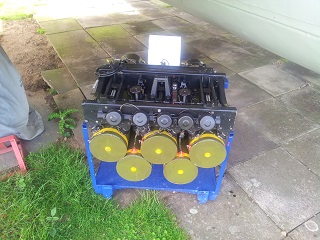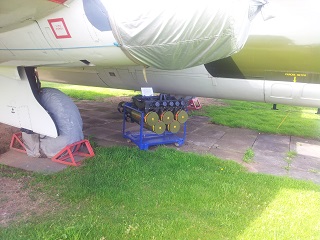 Yet another repaint of the Saudi T55 Lightning is underway (was it really as long ago as 2008 when the last one was done). The aircraft has been fully prepared and etch primed where required. Problems of corrosion on the spine panels are ever present and care has been taken to try and minimise this as far as possible. Enthusiasts and former lightning people will know that they are of mag alloy construction and metal rot is inevitable. Overall though it is in remarkably good shape and the repaint will be completed by the end of summer. Still of course in Saudi livery (it never served anywhere else). There has been a little confusion about the Saudi numbers (206) some advocates suggesting it should be (713) to reflect the aircrafts Saudi serial number (55-713). To try and put this to rest, when the aircraft was built at Salmsbury,(front fuselage at Filton),it was test flown by Roly Beumont on the 16-11-67 then delivered to Coltishall for Saudi pilot training designated as "C" with serial 206. On the 2-2-68. it was delivered to Saudi Arabia as a pairs ship with 55-711 by A Love on the 27-8-69. It served on various Saudi squadrons including the Lightning conversion unit and was returned to Warton from Tabuk as ZF598 with a total airframe hours of 2233.30mins. As with most repaints photographs do very little to explain or show the amount of work that gets done but a few pictures to show the progress are shown and other will follow. But to get the true picture (no pun) a visit is required to stand alongside this imposing aircraft so why not put it on your summer "to do" list.