Latest News
July/August Update
Story added on 30th August 2014
Well the summer holidays are almost over and as usual the best of the weather seems to be still to come. No complaints though as the museum has been extremely busy this summer with the guides pushed to the limit. The weather as usual has played a big part in the summer maintenance programme, it really can get too hot to paint on some days and sitting on the aircraft trying to paint and not get burnt in the process is difficult. Lots of fun moving the Hunter in to a new position between the Javelin and the Argosy. The aircraft hasnt been moved for well over 20 years and after some preparation and an initial tug it all went very smoothly considering the brake units are still in situ.
There is some discussion going on at the moment regarding the installation of a webcam at the museum which is accessed from the website. The yes debate centres around the increase in web site traffic that it will bring and the access it gives to overseas visitors. Only part of the site would be visible acting (we hope) as a taster for the casual web site visitor to come and see the rest. Against the installation would be the argument that perhaps you would have seen enough to not visit. Further arguments are that it provides the management a live view during particularly inclement weather and of course increased site security. Further debates are sure to follow with other points of view having to be taken in to consideration.
The Tornado has had a few more parts added, the most visible being the rudder. It is difficult to get all the parts together quickly and one suspects that the recent tasking of the aircraft overseas hasnt helped the flow of available spares.
At last the Canberra re-paint has been completed. It was promised to be finished by the end of August and it has just scraped in to the time frame. The aircraft has been jacked up and the wheels rotated along with some greasing carried out of the undercarraige and flaps. To try to make the exhibit more interesting we have aquired an 8 inch flare carrier to exhibit alongside the aircraft. Our plan is to put five mock up 8 inch magnesium flares on the carrier to show what the Canberra PR3 carried in one of its night time photographic roles. Further pictures will follow of the carrier when the missing pieces that have had to be fabricated have been fitted. If any one has or knows of a Flare beam to which the carrier attaches to, we would be interested. The ministry photo is from 1959 of the loading of 8 inch flares to a PR canberra.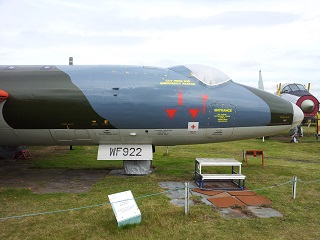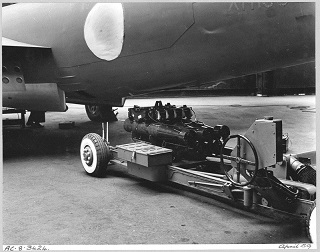 At long last our Mig killer Phantom has had the decals applied to the port tail after a succesful re-paint carried out earlier in the season.