Latest News
June Update
Story added on 27th June 2014
June saw the summer Model show come and go, not without a great deal of effort it has to be recorded as it seems we are getting very tight for space again and to clear the Robin Hanger is no mean task. Every one chipped in and moved what seemed like a mountain of aircraft first out and then back in again. Not only aircraft but missiles, bombs and a whole range of support equipment had to be shuffled around.
Now to the aircraft that are undergoing repaint. The Phantom is beginning to look aggresive again and the team are gradually finding the time to put some paint back on the airframe and it must be around 50% complete. As with most aircraft they are much larger when you get up close and personal so given the other commitments in June they are doing very well.
As forewarned last month the Canberra because of its instant appearance as you come out in to the open air at the museum has been given a re-paint. It hasnt done too badly on its last coat which was about 7 years ago. Whenever you repaint any aircraft the colours always initially seem so vivid as to seem wrong sometimes. This is natural because we dont notice the colour fade over the years and to be suddenly confronted with a bright new paint job takes a bit of getting used to. The fusalage and wings are all completed and once the paint is hard enough to walk on and to take masking tape the tricky art of applying the decals will begin. We have been lucky in respect of the weather on this repaint as it has not rained on our parade at all. If anyone wants to know we use Dulux Weathershield which is rollered on, and has anyone else noticed how the price of paint has soared over the last few years. But to be fair we have had some support from Dulux in the past so we are not complaining too much.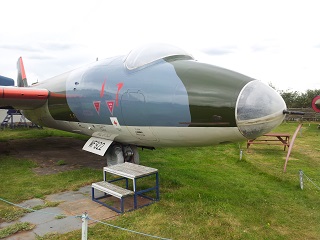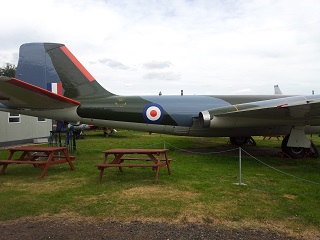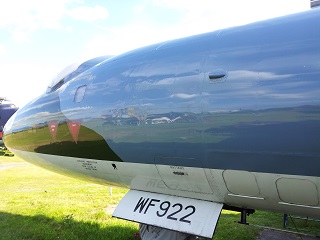 Our full size airfix kit of the Tornado is coming together as various missing parts are released by the service. Not up to display standard yet but its beginning to look very impressive outside the Robin Hanger.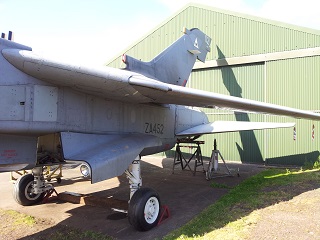 Group visits are of course still happening and range from veteran groups to Cubs. A few more schools groups are coming to the museum and seem to go away chattering widly about the aircraft they have visited. We have had a BBC crew around filming the parts of the museum and it could feature in an up and coming BBC programme in the near future. Nothing to do with aviation I think but good publicity none the less.
Much more going on behind the scenes of course all discussed over the excellent bacon batches from the recarpeted repainted cafe. So why not give us a visit this summer, You can bring your own picnic if you wish we have no problems with that and we provide seating outside in the aircraft area for you to enjoy your day.