Latest News
May Update
Story added on 24th May 2014
Sorry for the delay in posting the update if your a regular reader, Truth is we have been very busy and its one of those jobs that you always mean to do but never quite manage.
The Tornado is the story of the month for us. A team tackled the airfix kit laid out in the hanger and with the help of a crane it was assembled over a two day period. No real snags were encountered and the well engineered aircraft went together quite smoothly.
There are still some parts to come before it could be called anywhere near complete but its standing on its undercarraige and the wings are swingable (by hand). Plans are afoot to get the cockpits populated as well.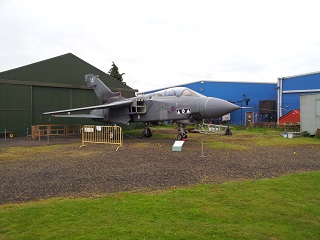 Although I wont bore you with anymore pictures (Just yet) of the Canberra it is undergoing a repaint. No changes in the livery you may be assured. It was last painted in 2006 so its done very well. A days power washing covered the ground (and a lot of other parts of the museum) in dayglow paint. The weather plays a huge part in deciding the schedule for outside aircraft painting but at the moment we have plenty to get on with resealing the glazing and hatch but we need a flaming June to expidite the task.
Also tasked for a repaint this summer is the F4 Phantom, partly as a result of some enthusiastic power washing its paintwork is looking a bit patchy. but a team has been allocated/volunteered and are waiting for a weather window.
Visitor numbers are up and plenty of evening group visits are scheduled for the summer so we can safely say that despite the very disruptive roadworks that are taking place all around us we are still very much the place to visit this summer.