Latest News
June Update
Story added on 30th June 2013
Once again time has passed so quickly its almost the end of June already. Although on the surface not much has changed ,underneath an awful amount of work has been carried out to stage the very well recieved Model Show. Plenty of Traders and plenty of buyers. All seem very satisfied with the venue, but it was an awful lot of hard work moving aeroplanes around to accomodate the stalls. It all has to be done again in August for the Bi.Annual Guild of Aviation Art Exhibition. Dates for your diary are 20th August until the 8th September. Open for viewing from 10.30 until 4.30. Artists will be on hand to answer question and to offer advice to would be artists. It has to be said the primary reason for the show is to allow the artists to display and sell their work, so lets wish them well on that aspect. Sketching will be taking place but no firm dates can be given on that because of the weather factor. The exhibition is under cover in our Robin Hanger, So please feel free to support some local artists. Entry to the Exhibition is free once you have paid your museum entrance fee.
Now to work in progress. The Javelin is gradually beginning to come together. As has beeen pointed out the amount of surface corrosion that has had to be treated makes visible progress appear slow. None the less it is worth a couple of photos to show that something is happening.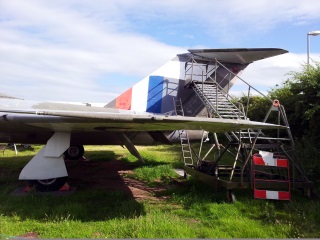 The Bofors gun is finally finished and is standing proud in its new coat of green, sheilded from some of the worst of the weather by the venerable Argosy. Which incidentally has had a power wash. Not a mean undertaking in its own right.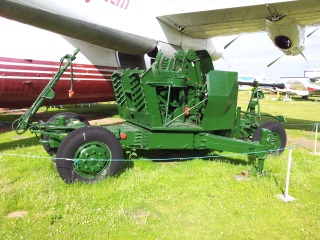 On to the Meteor NF 14, it is also undergoing the paint preparation progress. Held up by the team having to divert to the aircraft chess games it is due for completion at the end of summer.
On to the Viscount now an exhibit in its own right. It is not always open for viewing so if you have a particular wish to view the inside of the aircraft please ask at reception to ascertain if a guide is available. Or better still ring or email before you visit. It does get used for promo videos and the like and communication first can avoid dissapointment. As has been said many times before it will never be truly finished as such but minor improvements will always be carried out as and when time and materials become available. This week attention was focused on the First Officers instrument panel. Making operable the Bus Bar Voltmeter, the Turn and Slip gauge and a few failure warning lights made to work again. Big job of the week was the painting of the port upper wing. All with the usual 4 inch roller of course. Now we know that the original finish was bare metal and very nice it looked when the aircraft was younger. But we havnt the time or energy to keep it in a bare metal finish so silver it is and it adds a fair level of corrosion resistance as well from the efforts of the local bird population to undermine our efforts.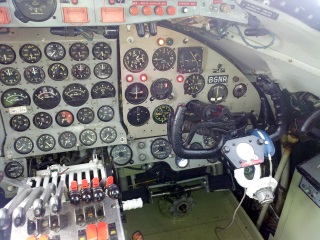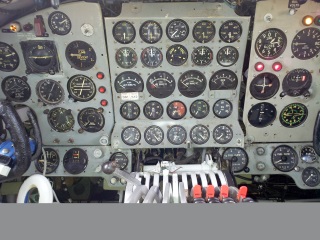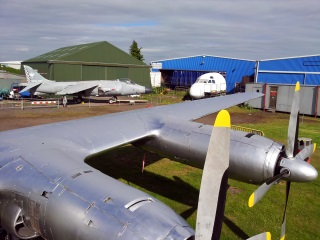 lastly a photo of a space. Well keep watching it or visit in a couple of weeks to update yourself on why its there. No new additions I might add to those trying to read too much in to the authors words.