Latest News
April Update
Story added on 13th May 2013
Thankfully the awful weather hasnt affected our visitor numbers but it does leave you wondering when and if the summer is ever going to get here. Certainly not evening barbecue weather just yet.
Progress is being made on the re-paint of the Javelin. A big aircraft to rub down and one which stands on one of the bogier parts of our site. So moving steps and the giraffe around is a major part of the excercise. It is coming out of 5 Sqn colours and we will leave it a bit in the air as to its new livery. Quite a lot of corrosion around the dive brake area is having to be tackled giving the team some practical experience to follow on from the BAPC corrosion courses they all attended.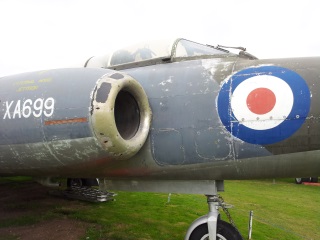 The mig cockpit is still undergoing some TLC with the seat getting a lot of new leather. It isnt a cockpit that is generally open to the public but given that it will have a servicable seat, that might change on open cockpit days, who knows.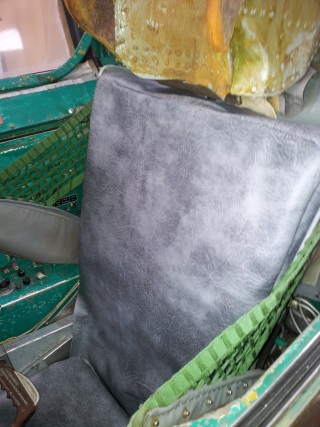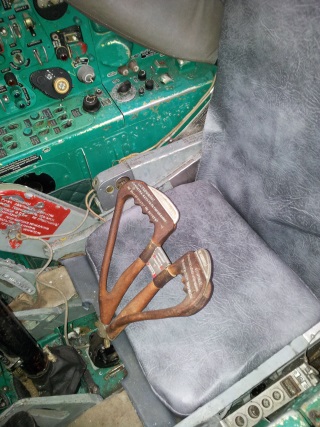 The mighty Bofors repaint is finished at last, The team were hoping to get some more of the operating mecahanism working again but that couldnt be achieved in a reasonable time frame and would have meant a serious strip down for which we are not equipped Im afraid.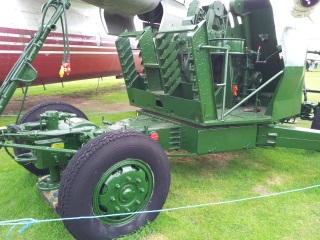 No pictures at the moment of the Firetreak missiles repaint that is being carried out by one of our most junior members. But his dedication hasnt gone unnoticed and shows that the younger members if guided correctly can become a useful part of the workforce. Pictures next month.
Finally although it happened in May not April we had a visit from the Viscount Group. They have visited before in 2008 and made a welcome return on the 11th May. A morning of presentations followed by lunch and a guided tour of F-BGNR plus other exhibits provided them with a full days itinery which kept this knowledgable and experienced goup very happy we hope. I have no doubt that they will be reporting seperately on their own website. Just prior to there visit we managed to get the yellow ends of the props painted between ahowers. A working radio has been installed (tx inhibited) in the cockpit that gives out Coventry ATIS information if required to add to the visitor experience.