Latest News
Jan/Feb Update
Story added on 18th February 2013
As keeping warm is hardly newsworthy it is difficult at this time of year to put together an update that contains real substance and is interesting to the world at large. So the net result is a bit of a hotch potch of items that have been glued together to show that we are still here enjoying the work that goes on in the winter.
A quick plug for the Cosford Air Show on Sunday 9th June, tickets are on sale at our reception. So if your thinking of going buying them from us could save you a bit of time on the day.
Back from a long long stint on loan at Bristol University is the Museums Beagle. Arriving in the snow (how else) on a low loader it was quickly off loaded by a well motivated (and cold) team of volunteers. It has for the minute been found a home in the Robin hanger. Immediate plans are to store the aircraft for a while until it can be re-assembled and displayed under cover. So if you need a close up photo of a Beagle now is the time to visit and get it. No telling when it will next see the light of day.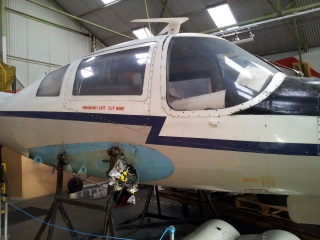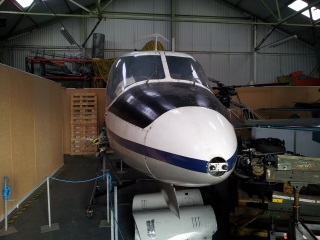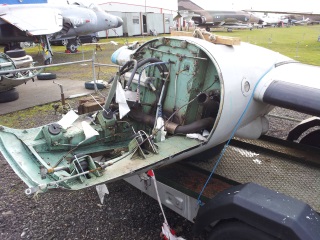 The Viscount re-assembly is still progressing and a date in March has been set to re-affix the Darts to the wings. We do have issues with the props at the moment but we will get it sorted eventually. A little work has been been going on inside the cabin to get it ready for the spring opening. Light fittings, first aid kits all that sort of thing that put the finishing touches to what is on the inside at least, a complete aircraft. We have refurbished the cowlings rescued from the Moreton- in-the-Marsh Viscount to a satisfactory exhibit status. (They were really badly corroded). Plans are still in place to have the No1 engine cowlings openable when the weather/wind permits, later in the year.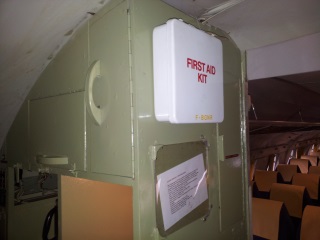 Taking advantage of the fact that the Mig is in the Robin hanger the team working on it have started a restoration of the cockpit. Long overdue, it will be sympathetically restored with the Yuk green interior that the soviets were so in love with at the time. Recovering the rather bulky headrest is also to be carried out.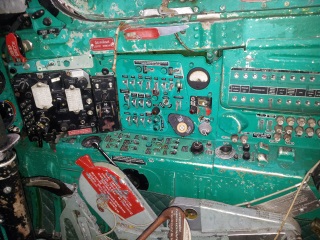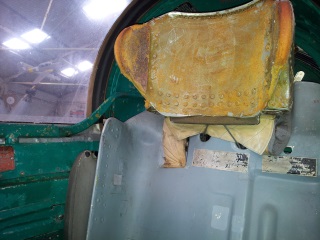 Despite the weather, visitor numbers have been consistant with last year, showing that the cold snowy weather doesnt deter the true enthusiast if they know they can get a good warm cup of tea and a toasty at some point.