MiG-21 Fishbed
Powered by one Tumansky R-13 turbojet with reheat
Visit Us
Postcode for your sat nav: CV3 4FR.
Opening Times
Winter
(Nov-Mar)
Summer
(Apr-Oct)
Monday - Saturday
10:00 - 16:30
10:00 - 17:00
Sundays
& Bank holidays
10:00 - 16:30
10:00 - 18:00
We are closed Christmas Eve, Christmas Day and Boxing Day.
Click here for a location map and public transport details.
Admission charges
Adult
£6.50
Child (5+)
£3.25
Infant
FREE
OAP/Student
£6.00
Family (2+2)
£17.50
Picture of the Month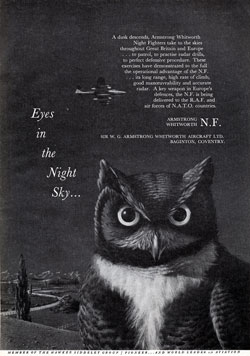 Amstrong-Siddeley were a locally based firm that built luxury cars and aero engines. This was an advert from December 1953 extolling the virtues of the Armstrong-Siddeley-built Meteor night fighter. 8 years after the first Meteors had entered service with the RAF, A-W and Glosters were still selling the aircraft to foreign air forces and the RAF. It was rapidly becoming outclassed by newer fighters, but as a night-time bomber-destroyer it was still a useful aircraft and around 550 Meteor night fighters were built. An example of the Meteor NF.14 is on display at the Museum.
July/August Update
Well the summer holidays are almost over and as usual the best of the weather seems to be still to come. No complaints though as the museum has been extremely busy this summer with the guides pushed to the limit. The weather as usual has played a big part in the summer maintenance programme, it really can get too hot to paint on some days and sitting on the aircraft trying to paint and not get burnt in the process is difficult. Lots of fun moving the Hunter in to a new position between the Javelin and the Argosy. The aircraft hasnt been moved for well over 20 years and after some preparation and an initial tug it all went very smoothly considering the brake units are still in situ.
There is some discussion going on at the moment regarding the installation of a webcam at the museum... read more
Get Social
You can also keep up with the latest news at the Museum by Liking us on Facebook or Following us on Twitter!